WELCOME TO THE
HARMONICALEARNING.COM
HARMONICA SCHOOL
Study the harmonica with a variety of styles, simplicity, progressivity and full-time support.
THE HARMONICA SCHOOL SPOT
Learn to play the blues and many other styles.
Learning harmonica takes time and practice. Let my courses help you.
Have a look at my 'Listen and repeat' methodology, a powerful way to learn harmonica.
This is the beginner course.
TESTIMONIALS FROM CURRENT STUDENTS


Mark A, UK
I got a discount coupon from a friend and wanted to try this new school. At first, I was a little skeptical, because the method is quite different from anything I had seen before on the internet. But after three months, I can say that if I'd received that coupon before, I would have saved tons of time and even some money.


Linda R, New York
Having the tabs always there on the play-along videos and on the backing tracks really helps me. Practicing became easy and funny, and my young son has also started to be interested in harmonica now! I finished the beginner course and started the 3rd position work. Great value for the price, and quick feedback from the teacher when needed.
Adam B, Canada
Over the past years, I tried everything available for learning harmonica – the free lessons and the paid courses. This school is quite new but it has enormous potential. I recommend closely observing the structure of the courses and the variety on offer, which in my humble opinion is without equal. I'm working on the Bending Gym course now and the results are coming quick.


Nichalos Waddington, Montana
Harmonicalearning.com has been a great course for me. Six months in and I can bend, play different melodies, and not just play some 12 bar blues but learning theory with it. If you want to improve your playing, or if you are a beginner wondering where you should go you don't have to look any further. This school is a all around good experience. With diversity and great explanation Luciano Guida is the teacher for you.


Jerry Zaferatos - West Virginia
This is a fantastic Harmonica program with great training reinforcements built into its teachings!


Castaño Humberto, Colombia
A mis casi 70 años de edad y luego de 4 años perdidos tratando de sacar algunas notas consistentes de la armonica, me encontré con el maestro Luciano y por fin se cumplió mi sueño de adentrarme en el estudio de este hermoso instrumento, con un método ameno y consistente, donde se aprende la técnica y las bases musicales y ademas sin ninguna dificultad idiomatica.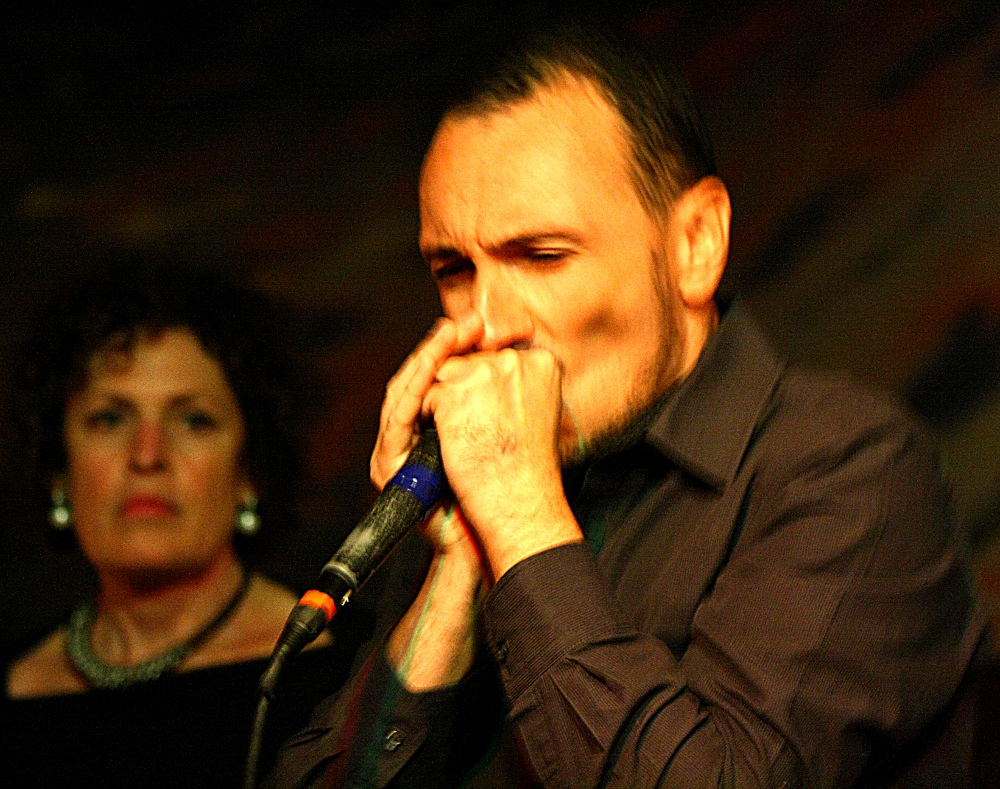 Hi, I'm Luciano Guida
Accredited bluesharmonica.com harmonica teacher since 2015, Luciano Guida, born in Milan in 1973, aka Lucky Slim. Began studying piano and music theory when he was eight years old, attending various conservatories and deepening his knowledge of Solfeggio and Setticlavio. In addition to the study of the piano, in adolescence he began to take an interest in electronic music, reading music and writing his first compositions. After completing his advanced studies he dedicated himself to piano bar evenings throughout Lombardy, playing keyboards and singing in a duo with a singer guitarist named Fabio Castelli.
In adulthood, his passion for music grew which led him to study the alto saxophone for three years, exploring Jazz, Blues and Improvisation. When he discovered the Harmonica he fell in love with this small but great instrument and he studied for several years with two of the most recognized teachers and harmonicists from the USA.
With the harmonica Lucky Slim performed on stages of prestigious clubs such as the "Buddy Guys Legend" of Chicago, the "Mbas" of Melbourne, and again in London, Paris, Madrid, obtaining the approval of established musicians in the world. After learning to master the diatonic harmonica, he studied the acoustic guitar for four years and decided to put the two instruments together, becoming one of the few in Italy to play the harmonica and guitar in a one man band show at a professional level. In recent years he has been studying modern singing to become the complete artist.
He currently dedicates himself to his musical show "Lucky Slim Music Show" offering live musical entertainment with different event formats. He teaches diatonic harmonica, guitar, music theory, and solfeggio with excellent results, transferring to his students, that great passion for music that led him to devote himself completely to this discipline. Today Lucky Slim manages some important social avenues concerning the study of music, involving videos, articles and suggestions for all those who wish to explore what this wonderful world has to offer.